Comparison of Xiaomi power banks – pick the best one for yourself

Veronica Jones, 2 years ago
0
5 min

read
2403
Power banks are becoming increasingly popular. More and more people want to have them. And no wonder: this is a portable energy bank, which you can use anytime and anywhere to recharge your mobile devices. With a power bank you will never have to worry about your phone dying in the middle of your outing, or about your laptop battery running low on your business trip. And you can plan a longer journey with a camera to shoot splendid photos, because you have the option to recharge the camera battery whenever you need to. Users like to choose power banks by Xiaomi. Check our which model you may want to buy!
In this article you will find out:
what makes Xiaomi so popular,

which Xiaomi power bank is recommended,

where to find original power banks by Xiaomi.



A few words about Xiaomi
You will find hundreds of power banks by various brands. With the multitude of advertisements and attractive promotions it's easy to make a mistake and buy a device that doesn't really suit your needs.
If you want a high quality product and would like to avoid disappointment, you pick a well-known brand. Xiaomi is a manufacturer widely recognised as reliable. It's a safe choice, because you know what to expect of its products.
And yet customers often shun devices and components made in China. Some say there are cheap imitations of the real thing. And every time Xiaomi is there to prove that such attitudes are but a stereotype which has nothing to do with reality.
Products by this brand are a good value for money, which makes Xiaomi especially popular. Smartphones, smart bands and watches, phones for gamers (Black Shark), tablets, TV decoders – the product portfolio of this Chinese brand is wide and ever-expanding. Customers have grown to like the solutions proposed by Xiaomi. According to the reports prepared by Canalys, an analyst company, Xiaomi is the third most often chosen phone brand in Europe.
Among products offered by Xiaomi you will also find quite a few power banks. When choosing a power bank by Xiaomi, keep in mind such parameters as capacity, weight, number of ports and extra functions – such as Fast Charging. Choose the product that suits you best. If you use a power bank only occasionally – e.g. to recharge your phone during a short outing – you can go for a lightweight model with moderate capacity. But if you need something to support you on a longer trip and would like to recharge more than just your phone, but also other devices, you should choose a more powerful model.
We have selected a top pick of Xiaomi power banks for you to choose from. Check them out!
Power bank Xiaomi 3 with a capacity of 20000 mAh

Third generation of Xiaomi power banks with a capacity of 20000 mAh comes with a USB-C, micro USB and two USB-A ports with Fast Charging function. This model has lithium-polymer cells rather than the usual Li-Ion ones with lower density. This is how this model manages to store more energy. These cells also impact the weight of the device (only 440 g), longer life and compact size. These are rather important advantages for the user, because a power bank is designed as a portable device.
Xiaomi 20000mAh 3 comes with a range of extra functions, e.g. fast charging thanks to the Qualcomm Quick Charge 3.0 technology. The ports are compatible with smartphones and tablets by Mi, Apple, Samsung, HTC, Google, BlackBerry, as well as digital video cameras and portable gaming consoles. This model will also be a good choice if you want to recharge some laptops with a USB-C port.
Power bank Xiaomi MI3 with a capacity of 10000 mAh

The Xiaomi MI3 power bank with a capacity of 10000 mAh is the mighty successor of the popular second-generation model by Xiaomi. It's 30% lighter than its predecessor (with only 223 g). It has a bi-directional USB-C port, which means you can recharge your smartphone or tablet AND the power bank itself. This model comes with 2 USB QC 3.0 ports with a maximum power of 18W – both USB ports have a fast charging option using the Quick Charge 3.0 and Power Delivery technology. The power bank adjusts the charging power to the requirements of your device, which means you can be sure it's 100% safe. Xiaomi MI3 has a number of safeguards, too – you can even carry it on board of the plane!
Xiaomi ZMI Aura with a capacity of 20000 mAh

Xiaomi ZMI Aura QB822 It comes with two USB ports, a bi-directional USB-C port and a micro-USB outlet. New type of lithium-polymer cells guarantee longer life, lighter weight and compact size. A low-key LED helps you monitor the charging status. This power bank has two USB-A ports, both with Quick Charge 3.0, and a bi-directional USB-C port with Power Delivery technology, which can be used both as an outlet and an inlet. A capacity of 20000 mAh means you can recharge your devices more than once. This product has a nine-tier safeguard system developed by Texas Instruments, which means it is protected from overvoltage, short circuit or overheating.
A shot of energy when you need it
If you go for original Xiaomi products, in our online store you will definitely find a power bank that will match your expectations. All those who are looking for an alternative to Xiaomi devices are well advised to explore  top products by Green Cell. Find your power bank today!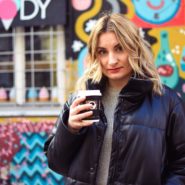 Veronica Jones
As an ardent enthusiast of written words she can handle even most complicated topics. In her everyday career she deals with content marketing, and more specifically she prepares and implements strategies. And when she doesn't work on another strategy, she writes blog articles for the Battery Empire.
Related posts