Choosing a power bank to suit your needs

Veronica Jones, 1 month ago
0
8 min

read
55
Modern phones offer a range of options – they are used for communication, entertainment, and other everyday activities. Unfortunately, the batteries often struggle to keep up with the powerful, demanding components. That's why power banks are more popular than ever before because they make it possible to extend the battery life in our phones. Are you thinking of buying a power bank but don't know which one to choose? Explore the list of 8 criteria to remember when buying one!
In this article, you will find out:
what parameters to look out for while choosing a power bank,

how to find the right power bank to suit your needs,

what a good power bank should have.
1. Capacity
The first criterion to look at when choosing a power bank is its capacity. This value determines the amount of energy your power bank will be able to store. It is expressed in milliampere-hours (mAh). Available models may come ranging from 2500 mAh to 30000 mAh. The more, the better – is it true in this case?
The greater the capacity, the longer your power bank will operate on a single charging. But before you buy one, make sure you need an advanced piece of equipment like this. This parameter should reflect the purpose of your power bank. If you're looking for something to extend the battery life in your laptop, you will need a high-capacity power bank. But if you only want to recharge your phone or wireless ear pods once in a while, there's no point in paying too much for a power bank with a capacity of 30000 mAh.

2. Fast charging
Fast charging technology is quickly becoming a standard solution for phones. In order to use this option, it's not enough to buy a proper mobile device. You will also need a specific charger. Or a power bank. These accessories should be compatible with relevant available technologies, such as Qualcomm Quick Charge, Samsung Adaptive Fast Charge, Huawei Super Charge or Apple Fast Charge.
Power banks  usually support a few fast charging standards. While looking at this feature, you are also well advised to make sure the power bank you choose has the Power Delivery function, which enables the most efficient charging – also for notebooks or game consoles.
Remember that "quick charge" technologies require high-power current. For example, the latest iPhones need at least 18 W to recharge the battery up to 50% in 30 minutes. And that's just for phones. What about more advanced devices? Tablets or consoles can be charged with 27 W, while for laptops the recommended power is even 65 W.
Don't forget that the maximum power with which you can charge your device is limited by its internal parameters. This means you are well advised to choose a power bank whose output power is the same as the maximum power you device can take – this combination guarantees the fastest charging.
3. Number of ports
The power brings us to another criterion we should look at, i.e. the number of USB ports in your power bank. The most powerful power banks come with a few ports that supply current with various power. Let's have a look at a power bank with three ports – you can connect a phone, a tablet and a Nintendo Switch, all at the same time.
But it's not only the most powerful devices that come with multiple ports, of course. A simple device with a maximum power of e.g. 18 W can also have 2, 3 or 4 USB ports. This means you can recharge multiple devices at a time. Plus, the power bank recharges itself in the meantime. In order to use the latter option, you need a power bank with the Pass-Through function.
4. UBS port type
When talking about USB ports, we should mention not only their number, but also type. If you are looking for a versatile power bank that will replenish a phone, a tablet or a camera, you will need a few different USB ports.
Many advanced mobile devices can be connected to the USB-C port. A relevant cable with this connector comes with iPhone 12. Other phone cables often use the USB-A port, which can be connected to a PC or a phone charger. Both USB-C and USB-A are a practical solution, because you will easily buy a cable with a relevant connector whenever you need it. Apart from these two types, you can also find power banks with the rarely used micro-USB port. It is sometimes used to recharge the power bank itself.

5. Battery life
Just like all other products with a Li-Ion or Li-Po battery, power banks have a defined battery life. This figure indicates the number of charging cycles the device is designed to complete. It tells you roughly how long the power bank will be useful. A standard among most manufacturers is 500 cycles, which means the device will be fully operable for more or less 15 months, assuming you use it every day. But most of us don't rely on a power bank on a daily basis, which means the device should stay with you much longer.
The battery life of a power bank depends on the materials used in the production process and on the overall quality. The device will be efficient and fully operable provided you remember to use it properly and take care of it even when it's not used.  When you're not using your power bank for a long time, try to keep it fully charged.
6. Weight and size
Although it's not the first feature you would look at when buying a power bank, weight and size can make the device more or less convenient to use. These parameters will be of special importance if you want to use the power bank during your journeys. A large and heavy device may be a nuisance when you want to keep it in your hand luggage. After all , when flying or backpacking every centimetre and kilogramme makes a difference.
Power banks are also used on an everyday basis – some people carry them around in their pockets. If this is how you want to use your device, pick a slim model , which will easily fit into your jeans or jacket. Unfortunately, large power and capacity often come with a bulky size. On the other hand, as everything is becoming smaller and smaller, sometimes you can also come across power banks that combine all of these qualities.
7. Quality and construction
This is a criterion valid for all electronic devices. If you want to use your power bank for years, pick a robust model made with high quality components. Unfortunately, it's hard to assess these parameters at first glance, as you inspect the device in a store on online. That's why it's good to explore the opinions of users who had the opportunity to test a specific model.
If you're wondering which power bank to choose, you may also conclude that high quality devices usually come from reputable brands and manufacturers. Don't risk buying anonymous or no-name devices. They might break down soon enough and you'll be looking for a new power bank before you know it. 
Reliable, robust power banks will easily withstand a difficult journey and will operate even in harsh conditions. If they are made of strong materials, they will be shock-resistant, and tight cases will protect them against humidity or dirt. A device by a reputable brand – such as Green Cell – is reliable and hardly ever breaks down. Besides, such power banks may come with a 24-month warranty.

8. Extras
Apart from the basic parameters, it's good to note certain extra functions, so that the power bank you choose responds to your needs. You will probably not use all of these functions on an everyday basis, but some of them are certainly interesting:
Battery charge indicator

– shows the condition of the power bank battery and may come in two variants. The first includes LEDs, which are not very accurate, but consume little energy. The other one includes an LCD display – a much more precise option, but it needs more energy, which could be used to recharge other devices.

Wireless charging

– just like chargers, also power banks can come in a wireless version. It's enough to put your phone on the device to recharge it. It's up o you to decide whether or not you need this function – wireless charging seems impractical when you're on the go, and when you're at home or at work, you can use a regular wired charger.

Integrated cable

 – you won't have to remember about the phone cable. The cable can be hidden inside the case, which is rather convenient.

A

LED flashlight

– some of you will consider it a fad, but others will happily use it. After all, we sometimes use the flash in your phone as a flashlight. Still, it's better to save the battery and use the power  bank light.

Solar panel

 – the trouble with a power bank is that the energy it stores runs out rather fast. When you have no power source, you won't be able to replenish it. That's why a

solar panel with a power bank

seems like a good idea – with this one, you can rely on the energy from the sun to recharge it. That's an easy way to replenish the energy at any time (except at night).
A power bank to meet your expectations!
In our online store  you will find power banks with an impressive capacity, which can be used to recharge phones,  tablets, laptops and a number of other devices. The power banks come with a range of practical functions, such as Quick Charge, Power Delivery, different USB ports or a battery charge indicator. Pick the model that meets your needs!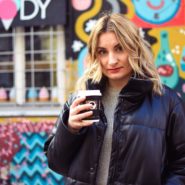 Veronica Jones
As an ardent enthusiast of written words she can handle even most complicated topics. In her everyday career she deals with content marketing, and more specifically she prepares and implements strategies. And when she doesn't work on another strategy, she writes blog articles for the Battery Empire.
Related posts