The best power banks. Models with the highest capacity

Veronica Jones, 3 years ago
0
5 min

read
932
Power bank is a gadget that has become a staple for many of us – we use it not only while we're on the go. It comes in handy when you're at work or at school, too. You can also use it when going for a long walk or heading for a weekend trip. Power banks are good not only when you need to recharge your phone – high capacity models can even charge a laptop or a portable console!
In this article you will find out:
when high capacity power banks are especially useful,

what are the advantages of the best power banks,

what models you may want to explore in Battery Empire.
The best power banks and when to use them
If you're looking for a portable power bank to recharge your phone in case of emergency, you will need a model with a capacity of up to 10000 mAh. Such a device is perfectly enough to extend the working time of your smartphone or other small electronic devices (e.g. wireless earphones or a speaker). If you want to choose a power bank with a capacity of 20000 mAh or more, you will be able to use it for other equipment, too. What exactly do we mean by this?
Power bank with a capacity higher than 20000 mAh is a staple for all those who work outdoors with electronic devices. If you need constant access to your laptop, but don't always have access to the mains, a high capacity power bank is exactly what you might be looking for. It will also be useful when you keep using a few phones or other devices (e.g. cameras) – this makes a power bank an essential accessory for influencers or those who work with multimedia.
A portable power bank with a capacity over 20000 mAh is a good idea also when you're out in the open and cannot access a source of electricity for a longer time. If you're going on a faraway trip into the wild to shoot photos or movies, you should definitely have a high capacity power bank with you.

The advantages of a high capacity power bank
High capacity means you can recharge a laptop or other advanced devices, but there's more to it. The best portable power banks come with a fast charging option (e.g. Qualcomm Quick Charge), so you can quickly replenish virtually any battery. Most powerful power banks have different USB ports, which allows you to charge several devices at the same time.

When looking for a new, high-capacity power bank, make sure you pick a product by a well-known brand. Take some time to explore the opinions about the construction and durability. Remember, portable power banks often have to withstand difficult conditions and are exposed to a variety of factors. It's good if your device is resistant to mechanical damage and weather.

Find the best portable power bank in Battery Empire!
In our online store you will find a high-capacity power bank which will meet all your requirements. Explore the models with the best parameters!
This is by far the strongest model available in our online store! The capacity of 30000 mAh means you will be able to recharge even the most advanced devices, such as laptops. This model comes with the Qualcomm Quick Charge 3.0 function, a module which replenishes batteries three times faster than a standard charger.

The runner-up in this category is PowerPlay Ultra with a capacity of 26800 mAh. It has 4 USB ports with a total power of 128 W, which means you can quickly recharge a laptop, smartphone or a console. Another advantage is the Pass-Through function, which means you can recharge the power bank itself while it's replenishing the battery of another device.
Other models with a capacity of 20000 mAh
Although the above products are highly recommended and unparalleled as regards high capacity, in our online store we have other strong models, too. 20000 mAh is a guarantee of excellent performance also when you need to recharge a laptop or Nintendo Switch. Each of these products can replenish the batteries of two devices at a time, while some of them have even more output ports.
The third portable power bank we would like to recommend to those who are looking for high-capacity products is PowerPlay 20. Its capacity – 20000 mAh – ensures up to 72 hours of battery life! The power bank has multiple ports: USB-C Power Delivery 18W and 2x USB-A Ultra Charge, so you can recharge up to three devices at a time. The fast charging function speeds up the whole process.
But this is not everything! We have many greats power banks with good. capacity – expecially for fans of Xiaomi and RDY. Among the products available in our online store you may want to explore the following:
Summary
Often, without a power bank, we cannot imagine simply leaving the house, let alone a long trip. It is a gadget that is always worth having in your backpack or drawer. Explore portable power banks available on our website and pick one that will satisfy all your requirements!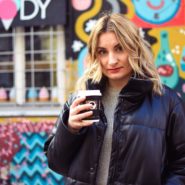 Veronica Jones
As an ardent enthusiast of written words she can handle even most complicated topics. In her everyday career she deals with content marketing, and more specifically she prepares and implements strategies. And when she doesn't work on another strategy, she writes blog articles for the Battery Empire.
Related posts