Portable e-car charger – when is it useful?

Veronica Jones, 2 months ago
0
4 min

read
61
Although there are more and more electric cars cruising the streets, charging stations are still few and far between. They are still less popular than conventional petrol stations. Not everybody wants a WallBox at home, and when you're on the road, you won't always have a chance to find the nearest public charging station. That's why it's good to have a portable charger. 
In this article you will find out:
what makes a portable electric car charger special,

when a portable charger comes in handy,

what charger to choose.



What is a portable e-car charger?
A portable car charger is a good alternative to other sources of energy, such as public charging stations or a Wallbox at home. Public charging points are usually the fastest way to recharge an electric vehicle, and a WallBox means you can skip the queue and recharge your car at home, overnight, so that it's good to go in the morning.
A portable charger takes longer to replenish your car battery than a public charging station or a Wallbox. On the other hand, it can be quite useful at times, especially because you can have it with you at all times. This means you don't have to worry about the car battery running low. A portable charger uses the current from an electric socket (230V), which makes it especially convenient (it's enough to plug it in your garage, in a parking lot or at a campsite). It's lightweight, easy to manage (you don't have to install it) and it will perfectly fit in your car boot.

When can you use a portable car charger?
On the road
Are you planning a journey and you're not sure if there are enough public charging stations along the route? Better safe than sorry – you're well advised to take a portable electric car charger with you. You won't have to worry about your car stopping in the middle of nowhere. And when planning the route you can choose the shortest way instead of the one closest to selected charging stations. Instead of taking a long route, get hold of a portable e-car charger!
Away from home for a while
Imagine you're planning to stay away from home for a while. You may be visiting your parents for Christmas, seeing your friends or going on a business trip to another city. Even if you have a Wallbox in your garage, you won't be able to use it, and there might be no charging station in the place where you will be staying… A portable electric car jump starter is a perfect solution!
When you don't have a Wallbox and want to save money
Do you usually use a public charging station and don't want to mount a Wallbox? If you want to be sure your car is always ready to go, you should carry a portable charger in your car boot at all times! First of all, it's a perfect solution in case of emergency. Secondly – charging your e-car from a socket may be slower than using a public charging station, but it's definitely cheaper. This means you can recharge your car and save some money.
When your car has been in the garage for a while
It's been a long time since you last used your electric car? Maybe you were on a long vacation and when you returned, you discovered that the battery in your car was empty? When you can't reach a public charging station, a portable electric car jump starter will save the day. You can use it to recharge the car battery from a regular socket. You will at least be able to replenish it up to a level which makes it possible for you to reach the nearest public charging station.

Explore a portable charger by Green Cell
In our online store you will find Wallboxes and portable car chargers with an integrated cable compatible with electric vehicles and Plug-In hybrids with Type 2 connector. The clients of Battery Empire appreciate the extraordinary length of this cable, which means you can use it in any situation without any limits.
Green Cell chargers, such as EV PowerCable, come with advanced security safeguards. The charging parameters will be monitored at all times (you can always check them out on the LED display) and the case is not only  lightweight and modern, but also waterproof, dustproof and properly sealed (with IP66 rating). It's important to remember that GC EV PowerCable means you can adjust the charging power (you can switch between 10 A and 16 A). And these are only a few advantages of this accessory – if you want to learn more, please visit the dedicated product subpage! 🙂 

Recharging your electric car is now easy
Portable electric car chargers can be a decent alternative to other sources of energy. A portable jump starter is also good in case of emergency. Check out the range of portable car chargers available in our online store. Pick the model that suits your needs. Recharging your car has never been easier!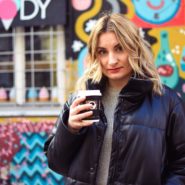 Veronica Jones
As an ardent enthusiast of written words she can handle even most complicated topics. In her everyday career she deals with content marketing, and more specifically she prepares and implements strategies. And when she doesn't work on another strategy, she writes blog articles for the Battery Empire.
Related posts