How to assemble an e-car charger station – Wallbox?

Veronica Jones, 3 months ago
0
4 min

read
113
Although electric cars are becoming increasingly popular, drivers may often feel discouraged from buying one of those vehicles because of the envisaged problems with charging. The relevant infrastructure is only just being developed, which means the owners of environment-friendly cars often have to make an effort to find a proper source of energy. Fortunately, they have more options than conventional chargers – there are also advanced charging stations, also known as Wallboxes. What do you need to know about them and how to assemble one in your own garage?
In this article you will find out:
how to charge an electric car at home,

how to prepare for the assembly of an e-car charging station,

how to assemble a wallbox in your garage or in the parking lot.



Charging an electric car with a Wallbox
The battery in an electric vehicle can be quickly replenished with direct current available at special charging stations. Such points are still few and far between, so you will probably have to use your own charger at home most of the time. You can choose between a special cable that can be connected to an electric outlet, and a Wallbox, which has to be mounted on the wall or a special stand.
Why is it a good idea to opt for your own  wallbox? With this type of charger you will charge with up to 22 kW! By way of a comparison – a cable connected to the mains will charge your cat battery with only 2.3 kW, which means you will have to wait for a couple of hours before you can hit the road.

Before you mount a Wallbox
Mounting a charging station in your garage or in the parking lot is not a complicated task. You can complete most of these steps on your own. You will need specialists only at the last stage, when the charger must be connected to the electric grid. But before you reach this stage, you need to prepare.
Check out the Wallbox parameters
The key question is always whether or not a Wallbox can be installed. But before you start the assembly process, it's important to explore the parameters of the Wallbox of your choice. It's a good idea to check the maximum charging capacity.
Remember that the very fact that your Wallbox comes with a charging capacity of 22 kW doesn't mean you will be able to replenish your car battery in a minute. If you want to make the most of this potential, you need to make sure your electric installation at home is properly prepared and your car has no limitations as regards the charging capacity.
Check your electric installation
As mentioned before, not every electric grid can cope with a 22 kW charger. It might turn out that in order to mount a wallbox you will need to modify the system, having obtained a prior consent of the electricity provider and – if you live in a block of flats – with the manager of the building. It often entails the need to obtain a few formal permits and to introduce certain advanced technical adjustments.

Mounting a car charging station
You can easily mount a private car charging station on your own. To this end, you will only need a screwdriver and a drill. The device can be mounted inside the building, e.g. in the garage (on the wall), and outside (on the stand next to your parking space). High quality chargers come with IP66 rating, which means they are dustproof and waterproof. You can easily mount them outside and be sure they will withstand any weather.
Mounting an electric car charger looks similar regardless of the brand. We will briefly discuss a sample wallbox installation of Green Cell PowerBox.
In order to mount a charging station, use a template that comes with the product and drill holes in the relevant places, as shown. Then slide the covers of the wall plugs into the holes and use the screws to fix the mounting plate. Then you can hang the charging station on the plate. And the last step will be to connect the wallbox to the mains.
The last step should be performed by a qualified electrician. If you ask a specialist to do it, you can be sure the installation will be completed properly, plus, you won't invalidate your warranty. Connecting a wallbox to the mains usually takes up to one hour.

Private charging stations from Battery Empire
If you're looking for high quality chargers for electric cars, you will find them in our online store. When buying one of our Wallboxes, you will receive a detailed mounting instruction, which will make it easier for you to complete the procedure. Explore the products available in Battery Empire and charge your e-car faster than ever!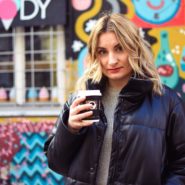 Veronica Jones
As an ardent enthusiast of written words she can handle even most complicated topics. In her everyday career she deals with content marketing, and more specifically she prepares and implements strategies. And when she doesn't work on another strategy, she writes blog articles for the Battery Empire.
Related posts