Filter types for Xiaomi air purifiers

Veronica Jones, 3 years ago
0
4 min

read
4967
Air purifiers are becoming increasingly popular of lately. All users of Xiaomi air purifiers need to anticipate a day when the default filter is no longer fit for use. What can you do then? What kind of replacement to choose? We have three basic filter types that go with Xiaomi purifiers. We will briefly describe each of them and highlight the differences. Enjoy the read!
In this article you will find out:
when to replace the filter in your air purifier,

what's so special about the blue filter,

what are the features of green and purple Xiaomi air purifier filters
Why air purifier filter needs to be replaced
Sadly, the life of each air purifier filter is limited. After a while you will have to think of a replacement. The life of a specific filter depends on:
the model,

average use,

air quality,

the area that is being purified.



If you want to get rid of pollutants, you need to monitor the condition of your air purifier filter. And what if you neglect it or forget about it?

What if you don't replace the filter on time?
If your air purifier uses an old, worn filter, this may lead to secondary environmental pollution. Blocked filters mean the efficiency of the device is not at its best, which has an adverse impact on the performance of the equipment. In the long run, using dirty filters can place an excessive load on the ventilation system and the engine. This, in turn, reduces the run time of the device or makes it necessary to replace individual components.
Excessive contamination of the filter causes resistance. This reduces the air flow, which leads to the pressure drop in the device. The system must use extra energy to handle this problem. This is when it consumes more electricity in order to push the air through the filtering systems.
Dirt, pollen, dust and bacteria as well as other particles clogging the filter make the device reach the peak of its performance. And power consumption increases. In brief – if your air purifier works with a clogged filter for a while, its performance will drop and your electricity bills will rocket.
Filter types for Xiaomi Air Purifier 2
We have already mentioned that there are three variants of filters for Xiaomi air purifiers, such as Air Purifier 2/ 2S / Pro. These variants are:
blue (basic),

green (advanced),

purple (antibacterial).
Blue filter
The first Xiaomi filter is the default version  and comes with the original air purifier. It has an extra layer of active carbon inside. It's a universal filter and should be good if you want to use it at home. This is a HEPA filter designed to hold tiny particles (such as  pm2.5). 
It's useful to remember that this filter type does not handle gas or odour. Volatile organic compounds, chemical vapours, cigarette smoke and other odours are filtered by active carbon. It is rather scarce in the basic blue filter, which is why this product may not work for smoke and similar pollution.
Green filter
Green filter by Xiaomi is an improved version of the blue one. It increases the filtration level for gas and chemical compounds, such as: formaldehyde, benzene, ammonia and other harmful substances, as well as smoke and odour. It removes viruses, bacteria, fungal spores and plant pollen. Green filter has a higher HEPA category  (H13), and the folded part is thicker in this model than in the blue version. Also, it contains more active carbon, which impacts the weight of the filter. The green variant is considerably heavier that the basic version – the weight of the green filter is ca. 1.1 kg, whereas the blue filter (HEPA + carbon) weight only 0.85 kg. If you need a product that will effectively remove unpleasant odours, check out the green formaldehyde filter for Xiaomi air purifiers  by Green Cell.

Purple filter
In the purple filter the active carbon layer is bigger than in the two previously discussed versions. This is why this variant is the most effective as regards the ability to keep out harmful chemicals. It can handle formaldehyde, ammonia, hydrogen sulphide, indole, ethane, radon, and more. This carbon filter – with bigger surface and higher porosity – absorbs harmful gases and chemicals that the regular HEPA filter cannot handle. The absorbing surface in this case is 57000 square metres. What is more, the purple variant is made with Organic Metal Salts Anti-Virus and Antimicrobial Technology. This version of the Xiaomi filter is also available in our online store.

Green Cell filters to suit your needs
Regular filter replacement means you will make the most of your Xiaomi Air Purifier. Explore the models available in Battery Empire and pick the filter that suits you needs! 😉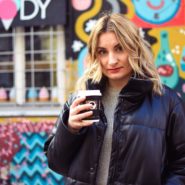 Veronica Jones
As an ardent enthusiast of written words she can handle even most complicated topics. In her everyday career she deals with content marketing, and more specifically she prepares and implements strategies. And when she doesn't work on another strategy, she writes blog articles for the Battery Empire.
Related posts