How to choose a power supply for your laptop?
Mr Battery, 2 years ago
0
6 min

read
996
Laptop charger is one of the devices we give the biggest impression of. Tripping over the cable, trampling the plug and kicking the plug are elements of everyday life of power supplies and as a result their life comes to an end much faster than that of a laptop. When it finally happens, we face the problem of finding a new charger. This task seems to be very simple, but unfortunately there are some traps waiting for us. Today we will tell ourselves what to pay special attention to when selecting the charger for your laptop.
INPUT parameters
This data indicates what kind of sockets the charger is suitable for. It is not about the type of plug, but about the voltage standard in a given country (you can read about the types of plugs in the world here).

In Poland, as well as in almost the whole Europe, there is a 230 V voltage. The highest voltage of 240 V is found, among others, in some African countries and in the Middle East, and the lowest – 100 V actually only in Japan. What does it matter?
In the context of matching the charger to your laptop, practically none. As you can see in the specification, the range of possible charger operation is 100-240 V, so Green Cell models can work under any global standard. The problem can only arise in the case of car chargers for laptops. These types of power supplies are usually designed for 12-volt installations only, so we will not use them in most trucks and other larger vehicles that usually have 24-volt batteries.
OUTPUT parameters
OUTPUT values inform us about the current the power supply gives to your laptop and thus find out if the charger is suitable. The data consists of two values:
-voltage in volts (V)
-concentrations in amperes (A)
These values, multiplied by themselves, give the power, which is expressed in watts (W). In case of the model in the picture above we can calculate that the power is 90 W.
Charger model
Right next to the parameters, most loaders have a specific model designation to identify them. Logically, this would mean that a model is enough to find the right charger, but there is a complication. The model in question only concerns the current parameters and not the type of plug. Let's look at it with the Asus laptop chargers.
The PA-1650-78 Laptop Charger model has the following current parameters:
Voltage: 19 V
The intensity: 3.42 A
Power : 65 W
We can be sure of these values and any charger with such a model should have exactly these parameters. Depending on the variant, however, the type of plug may vary. Currently we have two chargers in our offer, model PA-1650-78. One has a 4.5mm-3.0mm plug with a pin, and the other 5.5mm-2.5mm without a pin. The difference is visible to the naked eye.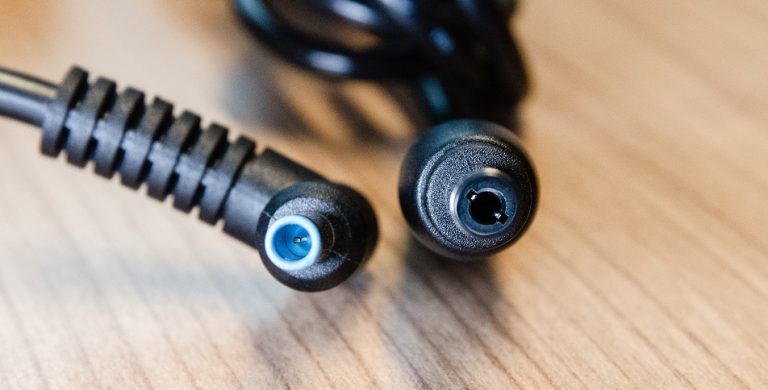 Plug type
So let's talk a little bit about plugs. Years of competition in the laptop market have led to considerable chaos. Although we now commonly use around 10 standards, including old-fashioned laptops and rare types of plug-ins, the number will increase considerably. We now have more than 120 models of laptop chargers on offer, which have 21 different types of plugs. Most plugs are round in shape, but there are exceptions, such as the USB to Lenovo or the octagonal to Dell plug. This is a table of the most popular plugs together with the brands of laptops that use them. The first number is the diameter of the external circuit and the second is the diameter of the internal circuit.


As you can see it's not so simple, Asus chargers can have up to 5 different types of plugins depending on the series they support. But if we own Apple computers, it's much simpler. MacBook chargers have so far only had 3 types of plug-ins to charge and each of them was quite different from the previous one. Chronologically they were Magsafe 1, Magsafe 2 and USB-C.

Finding a power supply in the store
Once we have all the data we need, we can proceed to find the power supply in our shop. So let's go back to the sample model PA-1650-78. There are three ways to quickly find the right product:
Type "PA-1650-78" in the search engine at the top of our page. Remember that this charger comes in two variants – with 5.5-2.5 mm and 4.5-3.0 mm plugs, so we choose the right one. Let's assume that we have the first version – this model will be suitable.
Enter OUTPUT parameters in the search engine – "19 V 3,42 A". As before, we have to pay attention to the given plug width – for example, power supplies for Acer laptops have identical parameters (they have a 5.5-1.7 mm diameter plug). Additionally, let's pay attention if we have not chosen a car charger version.
We can also use filters on our website. Just select the category "Chargers" on the main page. On the left side there are filters where we mark the appropriate parameters of our power supply – 19 V, 3.42 A and a "round 5.5-2.5 mm" plug. After selecting these filters in the proposals there will be one suitable power supply.
NOTE!
You can also buy a stronger power supply – it can have a higher A value, this is no problem for your laptop. The device will select the optimal charging power itself. For example, you can buy a 90W version of this power supply, you can find it here.
Green Cell PRO power supplies
As we mentioned at the beginning of this guide, chargers are the most vulnerable part of your laptop. Therefore, it is worth betting on equipment that will last us for years even with very intensive use. The answer to these needs can be found in Green Cell PRO power supplies. They guarantee over 3 years of failure-free operation. Such a long working time is ensured by the highest quality transistors, thanks to which a higher working temperature is possible. These power supplies are also equipped with an additional mains filter and a larger heat sink, so that the charger is properly protected and heats up less. The quality of Green Cell PRO power supplies is guaranteed for 36 months.

We hope that this guide will help you to choose the right power supply for your laptop. If you still have doubts, we strongly encourage you to contact our Customer Service Office. Our consultants will be happy to answer all your questions and solve any problems quickly.
Author: Michał Bródka
Related posts