4 situations when you need a USB cable

Veronica Jones, 2 years ago
0
4 min

read
942
A USB cable is one of the most popular solutions in electronics. It has a number of various applications. When is it good to reach for a USB cable? Check out when it's indispensable!
In this article you will find out:
when you need a USB cable,

how to project laptop to TV,

which devices you can connect with a USB cable.
A wide range of applications
A USB cable is a versatile connector that facilitates and unifies wired communication between a variety of devices. USB cables are very easy to use. Modern operational systems can detect a device connected via a USB cable instantly, without any additional action on the user's part. If you have installed relevant drivers, the device will be ready to use the moment you plug it in.
You can use a USB cable to connect such devices as:
an external hard drive,

a keypad,

a mouse,

a flash drive,

a printer or a modem,

a camera,

speakers,

gadgets such as a ventilator, a cooling pad or a flashlight.

1. Connecting your laptop to the TV
How to project your laptop onto a TV screen? The easiest way to do it is to use an HDMI cable. However, not all laptops have a proper input to accommodate this plug, so sometimes you have to go for a more complicated option: connect a relevant adapter to the laptop and only then connect the HDMI cable. The other end of the cable, with the HDMI (or VGA) plug, should be connected to the TV. Remember there are different USB ports with varying capacity. If you aim for the best possible image quality, pick a cable that guarantees fast data transfer.
2. Speedy data transfer
A USB cable is a perfect way to transfer data between two devices. You can use it to connect two different devices or two of the same kind. A USB cable can be used to:
send images from a camera to your laptop,

send video recordings from a camera to your laptop or PC,

download data from your mobile to your PC or laptop,

send files between two PCs/laptops,

connect two laptops,

copy data from an external hard drive to your PC or the other way round.




3. Charging your phone, tablet, a gaming console
Nowadays mobile phones can be charged with a charger connected to a socket or a wireless inductive charger. Most chargers include two separate parts – the plug connected to the socket and a USB cable that connects the plug to the phone. This is also how car chargers operate – the difference is you plug them into the lighter outlet. The USB cable can be used to connect a phone, a tablet or a gaming console to the laptop of PC, which is yet another way of recharging a device.
4. Connecting headphones, mouse or keypad
You can also use the USB cable to connect most of peripheral devices, such as a mouse or headphones, to your laptop. USB plugs are now on the decline because of a multitude of wireless devices – wireless mice, headphones and keypads are becoming increasingly popular these days. A micro-USB or USB-C port in your mobile phone, which is often used to connect the charger, can also be used for earphones. Some believe this solution is going to eliminate the need for a MiniJack. This is a thing of distant future, because the main issue with this solution at the moment is that it's impossible to recharge your phone and listen to music at the same time.

Check out USB cables by Green Cell
If you're looking for strong and durable USB cables, explore the range of USB cables by Green Cell in Battery Empire. They guarantee speedy data transfer and fast charging (Quick Charge 3.0 and Power Delivery). This means you will not only recharge your devices faster, but also send and receive data in no time at all. You can be sure that these cables will stand the test of time even when used frequently. Use our search engine to pick the right cable for your phone!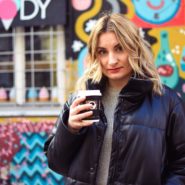 Veronica Jones
As an ardent enthusiast of written words she can handle even most complicated topics. In her everyday career she deals with content marketing, and more specifically she prepares and implements strategies. And when she doesn't work on another strategy, she writes blog articles for the Battery Empire.
Related posts