8 useful car gadgets

Veronica Jones, 9 months ago
0
4 min

read
343
Sometimes you're in for a few hours' drive, when you're on a distant business trip or you're just stuck in a traffic jam. It's good to make allowances for such a contingency and be prepared to boost the comfort of such journey. There is a range of accessories that can help you make the most of difficult situations – from a popular mobile phone holder, through a GPS, to a converter. Explore eight useful car gadgets!
In this article you will find out:
what accessories make your journey a pleasant experience,,

which gadgets you should always keep at hand.
Useful car gadgets that will make your life easier
The best car gadgets are those that boost the comfort and safety of your ride. It's also good to note the functionality of each of these accessories.
1. Video-recorder (dash cam)
Dash cams (also known as video recorders) are becoming increasingly popular. Depending on where you place them, these devices will record the view from the front and/or back of your car. Dash cams have two recording modes – on the go and while parked (e.g. when you leave the car).
Dash cam recordings are helpful when it comes to defining the details and indicating the guilty party after a car crash or in the event of a roadside inspection. Sometimes a recording like this can be used as evidence in court. At other times, they may become an Internet hit – many videos recorded on the go present either fails or breaches of traffic regulations. Such content is particularly popular.

2. Cell PowerRide charger
You phone died while you're on the road? You can't stop for a while to recharge it? No worries – with  the Green Cell Power Ride charger you can recharge your devices even while you're behind the wheel. Quick USB-A Ultra Charge 18W ports with the total power of 54W make it possible for you to recharge as many as three devices at a time. Each passenger will have the opportunity to recharge their device up to 3.5 times faster than in the case of a standard charger.

3. Backup camera
Do you have a problem with parallel parking? Do you feel stressed out when putting your car in reverse in a cramped space? This means you could do with a backup camera. When placed in the frame of the registration plate., the camera (with an inbuilt lens) will show a wide-angle view and transmit it to the cockpit of your car. Now you will notice any obstacle well in advance.
4. GPS navigation
Most new cars can boast a default, inbuilt GPS integrated with the on-board computer. But older models don't have this option. If your phone battery is not enough for your mobile to navigate you all the way to your destination, it's good to look for another solution. A great idea is a dedicated GPS device. This equipment will not only guide you, but show you all the possible shortcuts or a detour in the event of a traffic jam.
5. Phone holder
All of us know that while you're driving you shouldn't be using your phone, but there are situations when you do: for example to answer an incoming call or find your way. In both cases a phone holder might be useful. With a proper holder you can switch on the required function with a few clicks – to do it, you will first have to pull over to the side, of course, or do it while you pause at the traffic lights. 😉
6. Portable wireless vacuum cleaner
If you like your car clean and tidy, you will definitely appreciate a portable vacuum cleaner. Actually, it should be a staple for all drivers. Although you hardly ever take it with you on a short drive, it can be indispensable during a longer journey – especially if you're travelling with kids or animals. With a wireless vacuum cleaner you can clean the car anytime and anywhere – you don't even have to look for a socket to plug it in. The way to keep your car clean is within reach – pun intended!
7. Converter
Nowadays we often carry electronic devices with us when we travel. Most of us have mobile phones or laptops. When you are planning a longer drive, you have to remember that it might be necessary to charge your devices at any time. This is when a converter  comes in handy – a portable socket, if you will. You can plug virtually any electric equipment to it – from household devices, through laptops, to a mobile phone.  

8. Portable LED compressor
When the tire pressure drops below the required level and there's not a single petrol station in sight, what can you do? In order to avoid a risk related to the damaged valve, it's good to have a portable compressor. Then you can inflate the tire at any time.
Summary
As you can see, car gadgets can boost the comfort and safety of your drive. You will find some of them – like car chargers and converters – in our online store. Explore the products available in Battery Empire! 😉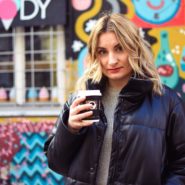 Veronica Jones
As an ardent enthusiast of written words she can handle even most complicated topics. In her everyday career she deals with content marketing, and more specifically she prepares and implements strategies. And when she doesn't work on another strategy, she writes blog articles for the Battery Empire.
Related posts