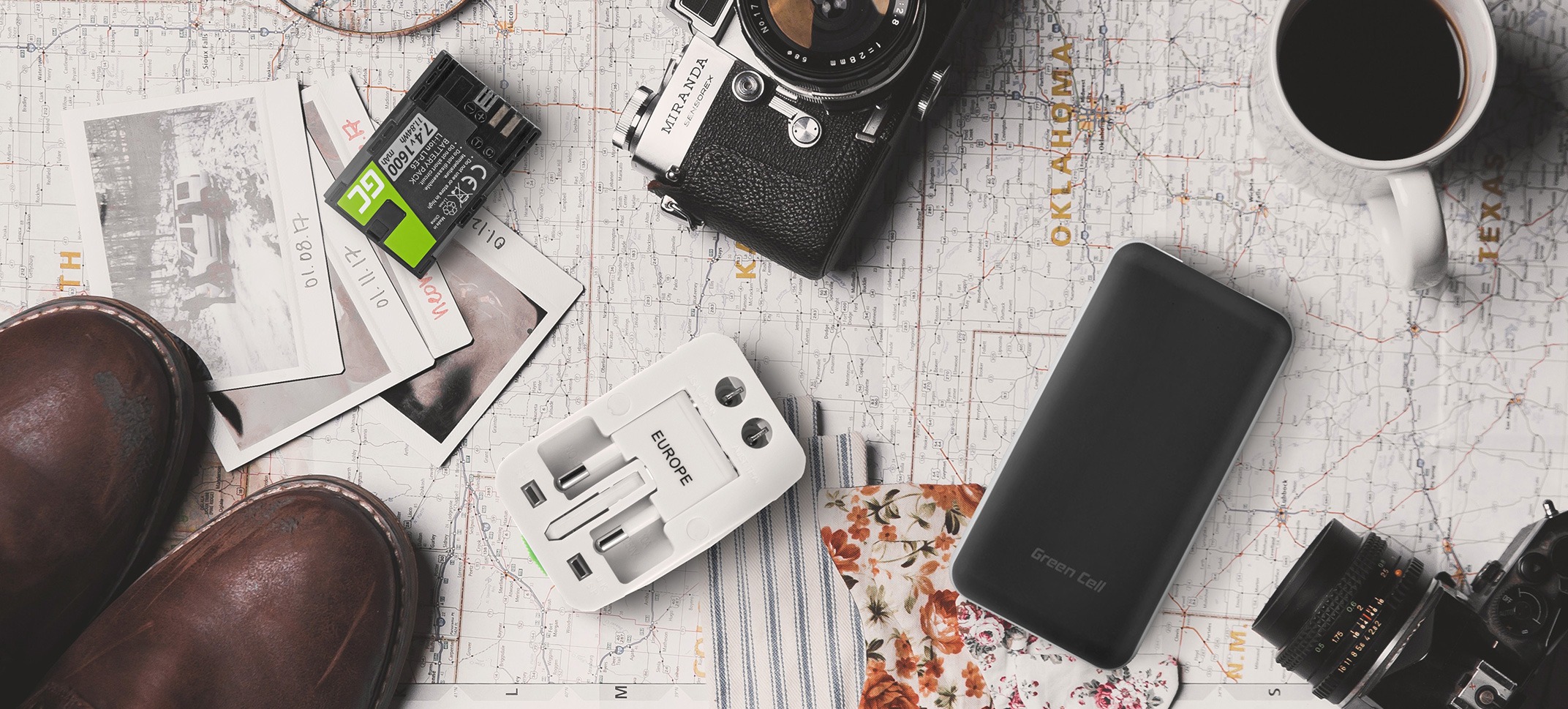 7 electronic gadgets needed for travel
Mr Battery, 4 years ago
0
5 min

read
989
Nowadays it is difficult to imagine a journey without electronic devices. When we leave, we take our smartphone, laptop, camera and many other devices that make travelling easier or even easier. However, in order for them to do their job well, we also need devices that will supply these accessories with power. That's why today we'll present you our travel kit, which will help you avoid the stress of discharged batteries and make your journey enjoyable.
Electronic gadgets on the go – the travel kit
No matter where and for how long we travel, there are electronic gadgets that will always come in handy. It is worth taking them with you and forget about the problem of discharged batteries.
Power bank
In everyday life we use power banks very often, but it is during travel that power bank becomes an irreplaceable power source for our devices. Thanks to it, we can recharge or recharge our phone when we do not have access to an ordinary socket. You don't have to convince anyone that a dead battery in the phone is a very undesirable situation when travelling. The phone is our guide: we have installed GPS, maps, guides to the place. On the Internet, we can always check the timetable of public or intercity transport, buy a ticket, go through check-in or use a translator to communicate in a language we do not know. That is why it is worth taking care to always have a power bank at hand. Its type will depend on our needs.

For shorter trips you can take lighter equipment with a smaller capacity. Many power banks also have a flashlight built in, which can be very useful for travelling. For longer trips it is worth to get a more efficient device. We have written more about choosing the right power bank in the Power bank to phone texts – how to choose the best one? and how to choose the perfect power bank – 3 golden tips, to which we refer you for more details.
Tourist adapter
In the luggage of every traveller there are certainly chargers for all the electronic devices they have. However, there are several different electrical sockets in the world, so if you travel abroad often, you will certainly find that the charger plug does not fit into the socket. This problem can be easily solved by taking a universal travel adapter with you. This small and inexpensive device will allow you to use sockets in over 150 countries, including England, Australia, China, Japan, USA and many others. You will find more about the types of power sockets and travel adapters in our text Why are there so many types of power sockets in the world?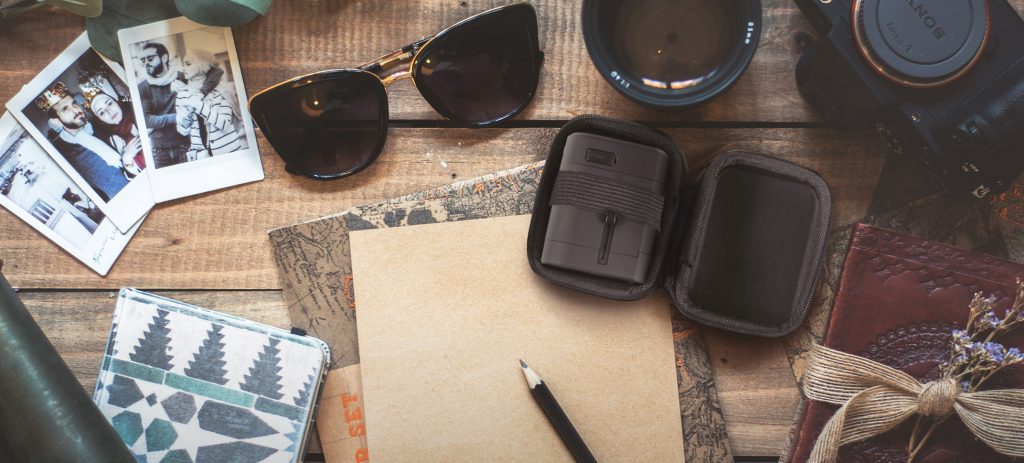 Travel photographer – useful accessories
Travel and photography almost always go hand in hand. Most often we use our smartphone to take pictures, but when going to new areas it is worth taking more professional photographic devices with us. On this occasion, it is worth taking care that we can always use these devices. What can help us in this?
Spare battery for the camera
None of us would like to experience the moment when, due to a discharged battery in the camera, a beautiful landscape or a special moment in the journey cannot be recorded. We are not always able to recharge the battery in the camera, and even if this option exists, we are not able to use the camera for a while. Such situations can be effectively prevented by taking a spare battery with you. This way, when you return, you can enjoy beautiful pictures taken during your trip.
Spare battery for the drone
Surely among our readers there are fans of filming and drone photography. When traveling, it's not always easy to recharge the battery to the drone, and the flying time on one battery is usually quite short (about 20-25 minutes on average). That's why it's worth having a spare drone battery with you to capture the beauty of the landscapes you'll see while travelling.
Electronics on the move
Car charger
Car charger is an irreplaceable tool during every car journey. You can connect your smartphone, car camera or a device that serves as a GPS to the car charger. To effectively and very quickly charge your phone it is worth to choose a device with Power Delivery function, which will allow us to charge your phone up to 5 times faster. If you want to charge your portable computer while traveling by car, it is worth to get a special car charger for laptops, which will allow us to use our equipment in a situation when we can not use a stationary outlet. If you want to listen to your favourite playlist while travelling by car, consider buying an FM transmitter that will connect your smartphone to your car radio via Bluetooth.

Car camera
When going on a trip by car, it is worth thinking about buying a car camera, which will help us on a safer journey, and in case of a collision prove the course of accidents. We can also use it to record other shots than just the car ones. However, it is worth remembering that in some countries (e.g. Austria) its use is illegal and we may face financial penalties.
Car converter
If we are going on a longer journey into the wild, an indispensable device will be a car converter. It can be used to charge basic electronic devices, such as smartphones or laptops, but also RTV devices (e.g. tuners, TV sets, dvd) or small household appliances (e.g. toaster, toaster, hair dryer or shaver). The converter can be useful especially on a camping site, camping site or other place without permanent access to electricity.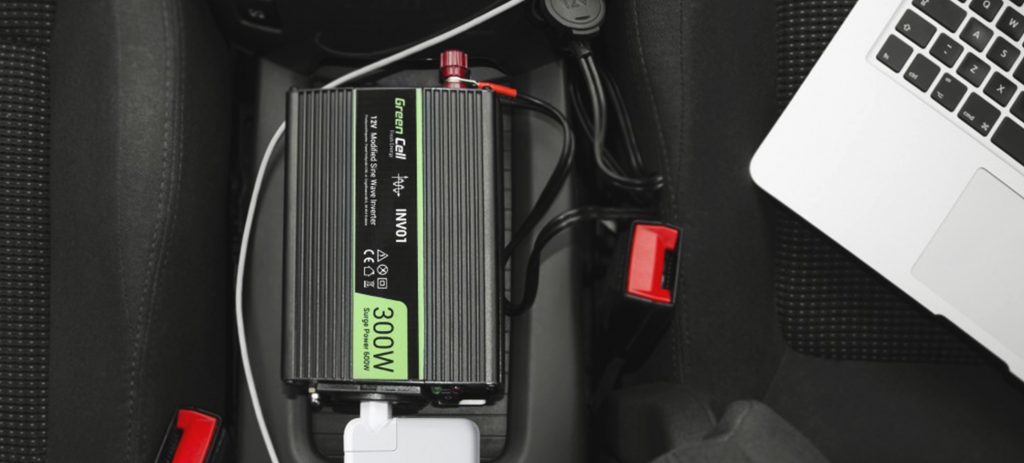 Summary
We hope that the above list of electronic equipment facilitating travel will be useful for you. We wish you all successful trips (both weekend and holiday ones), we invite you to shop in our shop.
Author: Joanna Antonik
Related posts