What is Quick Charge?

Veronica Jones, 2 years ago
0
5 min

read
1124
In their competitive race, the manufacturers equip the new phones with powerful processors and advanced cameras. All these extras put a strain on the battery, thus reducing its operating time. Most manufacturers adopted a resourceful approach to the subject –  not only do they maximise battery capacity, but they also design fast charging technologies. One of such technologies is known as Quick Charge.
In this article you will find out:
What is Quick Charge?

What's the difference between the following releases: Quick Charge 2.0, Quick Charge 3.0 and Quick Charge 4.0?

What is Ultra Charge – a the customised solution by Green Cell?
What is Quick Charge?
As the name aptly suggests, this is a technology designed to speed up the charging process. This format was developed by Qualcomm. Charging via USB ports was rather a limited option before  the Quick Charge standard was launched. This was because the ports were installed mainly for data transfer and the possibility to use them to recharge the device was limited. 
The situation changed in 2013, when Quick Charge 1.0 was launched. This technology facilitated charging with a voltage of 5 V and amperage of 2 A, which was twice as much as the charging parameters offered by standard ports. In order to speed up the charging process, you had to have a roper processor, charger and a microcontroller in the phone. Over the next years, the standard was developed and improved – and soon next versions followed: 2.0 in 2015 and 3.0 in 2016. 
The introduction of Quick Charge could be regarded as a breakthrough – and something that significantly increased the comfort of those who use laptops, phones or power banks. Nowadays we still rely on mobile devices. We often use them while we're away from home and don't have the opportunity to plug the device to a socket for a couple of hours. It is therefore important for us to be able to use the fast charging technology to replenish the battery quickly before we leave or while we have a few minutes to spare at the station.
Quick Charge 2.0 and 3.0
What's new in the later versions of the standard – Quick Charge 2.0 and 3.0? The standard voltage of 5 V was replaced by alternating current with a voltage ranging from 3.6 V to 12 V (version 2.0) and from 3.6 V to 20 V (version 3.0). The design of  Lithium batteries used in phones  means that they tolerate fast charging very well for the first 50-60% of the charging time. Then it's necessary to reduce the current in order to keep the battery safe and guarantee its  long life. The designers of Quick Charge accommodated this feature. Thanks to the integrated safeguards, fast charging achieves maximum speed at the very beginning, and then (when the battery is at least half full), the battery reduces the voltage of the current supplied to the device.
Quick Charge 3.0 is currently one of the popular standards of charging via micro USB. It is used in  wired chargers , car chargers and power banks. 
Quick Charge 4.0 and 4+
But the development of fast charging technologies didn't end in 2016. The new USB-C port was adjusted to the needs of most phones and accommodated fast charging. Qualcomm also developed a new version of fast charging designed for this port –  it comes in two versions, Quick Charge 4.0 and 4+, which appeared in 2017. These technologies support charging with a power of up to 100 W, while the new technology known as  Power Delivery supports charging with a power of up to 27 W.
Quick Charge 5.0!
Qualcomm, the company that introduced Quick Charge, does not stop once it launches a product. The designers always want to take the next step. This is why in the late 2020 a new standard was launched, known as Quick Charge 5. It can replenish batteries with a power higher than 100 W, which means you only need a couple of minutes to charge your phone battery to 50%! As Qualcomm claims – this standard of charging is by 70% faster than Quick Charge 4.0. Although Quick Charge 5.0 is now accommodated only by a few devices, we can expect this technology to become increasingly popular.
Ultra Charge
Another technology that is fully compatible with Quick Charge 3.0 is solution developed by Green Cell – Ultra Charge. If your phone accommodates the QC technology, you can also choose a charger which supports Ultra Charge. The charging speed is really fast. Ultra Charge makes it possible to recharge your phone fast (most of them need less than an hour and a half to recharge to 100%) – and safely. Three charging profiles (5 V, 9 V and 12 V) means the charger with the Ultra Charge option will choose the maximum possible amperage to suit the requirements of a specific phone. 
We have a few such products in our online store. A good example is  ChargeSource 3, with three charging ports. One of them supports the abovementioned technology designed by Green Cell. The other two Smart Charge ports adjust the charging power to reach the optimum value. The compact size and attractive design mean you can carry the device with you virtually anywhere,  so that you're always prepared to recharge up to three devices at a time.
New level of charging
Quick Charge is one of the most important inventions in the world of phones in this decade. Now you no longer have to spend hours waiting for your phone to charge – pick a relevant charger, e.g. ChargeSource 3, and replenish the battery in less than an hour!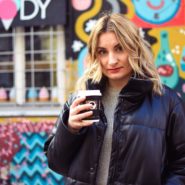 Veronica Jones
As an ardent enthusiast of written words she can handle even most complicated topics. In her everyday career she deals with content marketing, and more specifically she prepares and implements strategies. And when she doesn't work on another strategy, she writes blog articles for the Battery Empire.
Related posts