Enabling and disabling the fast charge function in your phone

Veronica Jones, 2 years ago
0
4 min

read
1957
Fast charge is convenient for most users, because your phone no longer needs to be connected to the source of power (e.g. a socket) for a longer period. Some mobile phone users decide to switch off the fast charge function, because they fear for the battery. Such fears are usually unfounded. But if you still want to switch off the fast charge function or switch it back on after a while, this post will show you how.
In this article you will find out:
how to switch off the fast charge function in your phone,

in which models you can switch on the fast charge function,

whether or not fast charging affects battery life.
What is fast charge?
Fast charge is a function developed in response to the users' demands, as phone batteries come with an increasing capacity. The bigger the battery, the longer it needs to recharge. Plus, we often use our phones not only for making calls, but for a variety of other things as well – all this is reflected in a shorter battery life. That's why new chargers were launched, which can recharge your phone much faster.
What you have to remember, though, is that not all phone models come with the fast charge option (i.e. Fast Charge or Quick Charge). Below we will explain how to switch this function on or off, depending on the model.

How do you enable and disable the fast charge function? Review of models and available options
Fast charging in Samsung phones
Select

"Device Care"

– you will find it in the settings

Then choose the

battery icon

in the bottom section of the screen

Select

three dots

in the upper right corner to proceed to advanced settings

At the bottom of the screen you will find the

"fast charging"

option – you can now switch it on or off, as you like.
How to enable fast charge in Samsung devices with Android 10 and One UI 2
For Samsung phones with Android 10 and One UI 2 (e.g. Galaxy A80, Galaxy A70 and Galaxy A6) it is slightly different. The first two steps are the same, although the menu looks different than the one in older Samsung models, but then the procedure changes.
Select

"Device Care"

– you will find it in the settings

Then choose the

battery icon

in the bottom section of the screen

Choose the "

charging

" option.

You will see two switches – one for fast charging, the other one for wireless charging. You can tick or untick them to suit your needs.

Enabling and disabling the fast charge option in Huawei devices
If you own a Huawei device and are planning to change the fast charge settings:
Enter the Settings and find the

"Device Care" section.
Select three dots in the upper right corner to enter the "

Settings

".

Find "

Quick charging

". Now all you have to do is move the slider to switch the function on or off.
How to enable and disable the Fast Charge option in your iPhone
As regards iPhones, you need to remember that fast charging is accommodated by the following models: iPhone 8, iPhone 8 Plus, iPhone XR, iPhone X, iPhone XS, iPhone XS Max.
Find and select the battery icon.
Enter the battery settings by pressing the button in the upper right corner.
Move the toggle to the "ON" or "OFF" position.

Fast charging shortens battery life – true or false?
Some say fast charging may damage the battery. It's not true, and in order to prove it, it's good to explore how fast charging really works. In this technology, the battery is charged faster only for some time. When the battery is 70% full, the phone switches back to the normal (slower) charging mode. This is to prevent accidents (such as overheating). If fast charging were to damage your phone, the charger would have to provide higher amperage all the time, until the battery is fully charged. And this is not so – as we mentioned, fast charging is switched off at 70%. So if you have a properly chosen high-quality charger, you can enjoy all the benefits of fast charging without having to worry about battery damage.
Summary – personal settings
In modern phones you can select the charging mode yourself (e.g. by choosing  wireless charging, using a  power bank or a standard USB charger. What is more, you can choose for your phone to be charged at a standard charging or much faster, if you opt for the relevant solution. Check out our range of products and pick a fast charger for your phone.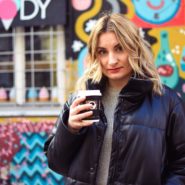 Veronica Jones
As an ardent enthusiast of written words she can handle even most complicated topics. In her everyday career she deals with content marketing, and more specifically she prepares and implements strategies. And when she doesn't work on another strategy, she writes blog articles for the Battery Empire.
Related posts