How long does it take to charge an electric car? Explore a few different ways

Veronica Jones, 1 year ago
0
5 min

read
322
Most drivers are used to the fact that filling up with petrol takes up to a few minutes and petrol stations are virtually everywhere. An investment in an electric car involves considerable changes. How can you charge a vehicle like this? How long does it take to charge the battery in an electric car? Explore this article to find out more. Enjoy the read!
In this article you will find out:
what are the ways to charge an electric car,

what are the pros and cons,

how long it takes to charge a battery in an electric vehicle.
Ways to charge an electric car
Depending on the battery capacity, you might need longer to charge the car battery. But it's the charging method that is of crucial importance. Below we are presenting three ways to charge an electric car – together with the duration.
Method 1 – generally available public charging stations
Charging an electric car at a public charging station has its advantages. This is one of the fastest charging methods. Public DC charging stations have the power from 25 kW up to 150 kW. "Rapid" chargers – with the power of about 150 kW – take twenty to thirty minutes to recharge an electric car.
On the other hand, you have to remember that this is the most expensive solution. At a station, you will pay about 2.5 PLN for 1 kW. (Charging your car from a socket at home costs more or less 0.55 – 0.61 PLN for 1kW – this method is discussed in the next paragraph). Plus, you can't forget that not all cars accommodate "rapid chargers." Another disadvantage is that although there are more and more public charging stations, they might still be rather far away from your home. That's why many people prefer to recharge their car battery at home.

Method 2 – a private charging station at home
You have two ways to charge an electric car battery at home. First of all, you can use a socket. This solution, however, takes time. Since sockets offer 16A 230 V AC, it will be an hour before your car is recharged by  2.2-3 kW. This means you will have to wait up to 24 hours before the car battery is fully charged (depending on the battery capacity).
The other way you can use at home is to install a private Wallbox. This method is much faster – the charging power will be up to 22kW. You will easily calculate that this device will recharge your car battery ten times faster than a standard power outlet at home. But there are a few things you have to remember:
before you install a Wallbox, you must organise an energy audit,

if you're living in a tenement or a block of flats or use a parking spot in a shared garage, you need to obtain the consent of other tenants and the owner of the building before you introduce any changes to the electrical wiring,

an AC wallbox is a considerable expense.
We can recommend  a WallBox by Green Cell –  it comes with an LCD screen and a universal Type 2 socket, compatible with all electric cars and Plug-In hybrids.
Charging your car battery at home has certain indisputable advantages. You can connect the battery to the power at any time. Furthermore, if you connect the car and leave it overnight, you can be sure that in the morning it will be ready to go. This will help you save time (the car will recharge while you are sleeping) and money (off-peak electricity rates are lower at night).
Method 3 – mobile charger
An alternative to stationary chargers (installed in your private property or available in public space) are mobile charging devices. They will help you charge your car battery anywhere you are, at any time. Devices such as  a GC EV PowerCable mobile charger  offers charging with 3.6kW power from a standard mains socket. This is by 75% faster than using most mobile chargers that come as a default with an electric car.
Renault ZOE (52 kWh) will take 10 hours less to charge with GC EV PowerCable than with a 2.2 kW charger. For Peugeot e-208 (48 kWh) the charging time will be reduced by 9 hours.
This device comes with an LCD screen, which shows such parameters as:
current power,

session duration,

temperature,

refilled battery capacity.
The charger also has a button you can use to switch the power from 10A to 16A. A 6.5 m long cable will help you connect the vehicle to the power source in any situation, and the LED will keep you informed of the current status of the charger.

Summary – How long does it take to charge an electric car battery?
As you can see, charging an electric car may take anything between several minutes and a whole day. It all depends on the current type, charging method and battery capacity. The choice between AC and DC and between a public, private and mobile charger will determine the charging time. It's good to consider all pros and cons before you choose the method that matches your expectations. See the solutions offered by Battery Empire!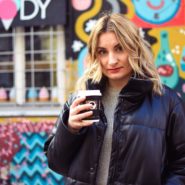 Veronica Jones
As an ardent enthusiast of written words she can handle even most complicated topics. In her everyday career she deals with content marketing, and more specifically she prepares and implements strategies. And when she doesn't work on another strategy, she writes blog articles for the Battery Empire.
Related posts