Why is it good to have a mobile car battery charger?

Veronica Jones, 3 years ago
0
4 min

read
865
There's no doubt that electric vehicles (EV) conquer the automotive market as we speak. As the numbers of these vehicles grow, the relevant charging infrastructure keeps expanding as well. More and more often it is the case that the owners of EVs opt for recharging the car batteries at home, with mobile chargers. Whether you already own one of these environment-friendly cars or you're only just considering buying one, there is one question you need to answer: "How to charge an EV at home?" Explore the convenient methods of charging electric cars and pick the option you like best.
In this article you will find out:
why a mobile car battery charger is a must-have for every EV user,

why the GC EV PowerCable charger is widely acclaimed by electric car drivers.

Charging an electric car –  one purpose, a range of possibilities!
There is a number of ways you can charge an EV. One of them is a public charging station, of course. 
The available infrastructure is constantly being expanded and adjusted to the users' needs. It is now cheaper, faster and more environment-friendly to construct a charging station than a traditional petrol station. However, EV users have a number of options to choose from as regards charging their car battery.
You can charge your electric vehicle at the station or at home – by plugging the car battery to a standard socket. Another good idea is a WallBox charger. This is a safe, fast and convenient solution. One thing to remember is that it requires a specialist installation and high connection power, that's why it often entail a modification of the whole grid. You also have to bear in mind that a WallBox is a costly investment.
A practical alternative could be a mobile charger, which combines maximum charging power with considerable flexibility. It allows you to recharge the battery from a standard 230 V socket. Plus, you can take it with you wherever you're going. The attractive price and impressive performance of this device make it an optimum solution suited to the needs and requirements of virtually any electric car.
Besides, electricity prices don't change as rapidly as fuel prices. In order to reduce the expenses, you can also use a photovoltaic system.

When and where you can use a mobile car battery charger
A car mobile charger is an excellent solution. This innovative device will replenish your car battery at all times, anywhere. It's enough to plug it into a standard socket. Portable chargers are appreciated by all those who have the pleasure of driving electric cars. Stores offer a wide choice of these products, so it's good to take a while and read about EV charging, so as to make an informed choice of the best car mobile charger. High quality, appropriate power and type, as well as a well-known brand are the best guarantee of satisfaction.
It's good to note that mobile charging devices don't require special installation and are small in size, so they can easily be transported in the car boot.
The advantages of using the GC EV PowerCable mobile car charger 
In our online store you will find an integrated cable by Green Cell. It is compatible with all electric vehicles with type 2 connector. This is practically a standard for most EVs. On our website you can check whether you will find this connector in the make and model of your car. 
A Green Cell mobile car battery charger  also comes with an LCD display, which will show you the current power, session time, temperature and refilled battery capacity. Another thing about the GC charger is the button for changing the current intensity (up to 32A) and the LED that informs you of the current status. 
Home WallBox charging stations require special installation and are rather expensive, so mobile car battery chargers will be a great alternative. The new product by Green Cell does not require any assembly or a specialised connection – a regular 230V socket is enough. 
All the Green Cell products comply with security standards. The new mobile charging system is easy to operate and protects your vehicle and the charger from damage. 

Summary 
Electric cars are the future of the automotive sector. Simple engine construction and fewer components mean that the maintenance of these vehicles is a lot cheaper. The presence of multiple charging stations makes the use of such cars increasingly easier. Still, it's good to make sure you can also charge an electric car at home. Considering the wide range of available EV chargers, it's important to make an informed choice.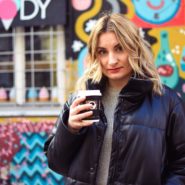 Veronica Jones
As an ardent enthusiast of written words she can handle even most complicated topics. In her everyday career she deals with content marketing, and more specifically she prepares and implements strategies. And when she doesn't work on another strategy, she writes blog articles for the Battery Empire.
Related posts