3 electronic gadgets for a day trip

Veronica Jones, 3 years ago
0
5 min

read
1028
Planning a quick mountain trip? Visiting friends in another town? Making an excursion to the lakeside? There are numerous reasons for getting out of the crowded city. Even when you're heading for a short trip, you need to remember about a few essentials. Depending on the weather and season, you may want to pack a different set of items. But there are some universal electronic gadgets that always come in handy. Read on to explore a few tips on what is useful on any occasion!
In this article you will find out:
why it's always good to have some electronic gadgets with you,

what equipment you should take on a trip,

what the difference is between a solar charger and a classic power bank.
Electronic must-haves for a day trip – why is it important to be prepared?
You could think a day trip is no big deal and you don't need special preparations. After all, hardly do you leave home when it's time to go back. But even the shortest outing may be full of adventures. It's up to you, though, to make sure that your day off is not spoilt by any surprises. Even during a brief excursion you can use a few electronic gadgets which every traveller should always keep at hand.
It's good to make sure your phone is fully charged and operating. Even if it's a short trip, you can witness a car accident or see a breathtaking view. In such circumstances a mobile phone is a must. With the GPS in your phone you will find your way around. And in case of emergency you can always call for help. The camera means you can capture the most beautiful moments of your journey.
What can you do to make sure your phone is always on duty? How to take care of it to protect it from damage? The electronic gadgets described below will definitely come in handy.

All-time essentials
Solar charger
All those who care about the environment will definitely appreciate the opportunity to use a solar charger. This device will supply clean energy for free. And then it's up to you how to use it. Green Cell SolarCharge uses solar energy to recharge your mobile phone. An efficient photovoltaic panel with the power of 21W and 25% conversion rate will help you make the most of each sunny day. The energy stored in the integrated 6400 mAh power bank can be transferred to the mobile device through two USB-A and one USB-C port. This gadget is lightweight and compact, and you can use the attached snap hooks to clip it to your backpack. Then the photovoltaic panels can "catch" the solar energy while you hike and enjoy the weather.
Mobile phone with a case and toughened glass
While you're on a trip, it's vital to make sure your phone is safe. Out there in the open it's easy to drop it and then you risk serious damage – especially on forest trails or in the mountains. For example you can drop your phone to the ground. What happens then? Sometimes, if you're lucky, nothing at all. But sometimes the screen breaks, the camera is damaged and occasionally the device just stops working! In order to prevent such troubles, it's good to make sure you have proper protection for your smartphone. Tempered glass reduces the risk of such damage. Also, while you're on the road, you don't always get the opportunity to wash your hands as often as you would like to – special coating means the screen won't get dirty and the glass itself is relatively easy to clean.
The GC Clarity safety glass is a perfect "armour" for your phone screen (it covers the whole screen surface). The glass will protect your phone from minor damage (such as scratches when you the phone in your pocket with keys or coins) and from major accidents (e.g. when you happen to drop the phone). The glass is thin and perfectly contoured. That's why it doesn't distort the colours and retains all the functions of the screen. It is also compatible with any case, which you can use for additional protection.. Plus, the oleophobic coating protects the glass from greasy spots and fingerprints, which means the screen will remain clean at all times.

Power bank
No tourist kit is ever complete without a classic power bank. This is a convenient solution, which has been quite popular for years. The manufacturers of these devices strive to improve their technology all the time. Let's have a look at Power Bank Green Cell GC PowerPlay20. With the capacity of 20000mAh it will extend the battery life of your devices (such as a camera, a mobile phone, a portable play station) by up to 72 hours. It comes with USB-C Power Delivery 18W and 2x USB-A Ultra Charge ports, which means a quick-charge opportunity for as many as three devices at a time. Power bank is a must-have for any trip. You can use it to recharge not only your smartphone, but also more advanced devices such as iPad Pro 2020 or Nintendo Switch. The device is intuitive and incredibly durable – you can rest assured it will survive all your adventures.

Electronic gadgets by Green Cell are a must-have on every trip
Electronic accessories by Green Cell can prove useful on any occasion. Even if you're only planning a brief outing to a close destination. Always keep a power bank or a solar charger in the trunk of your car and make sure your phone screen is safe behind a toughened glass.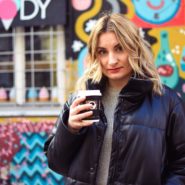 Veronica Jones
As an ardent enthusiast of written words she can handle even most complicated topics. In her everyday career she deals with content marketing, and more specifically she prepares and implements strategies. And when she doesn't work on another strategy, she writes blog articles for the Battery Empire.
Related posts