What distance can you cover on a single charge?

Veronica Jones, 2 years ago
0
5 min

read
1307
One of the popular myths about EVs is that they cover a relatively short distance on a single charge. But the times when you had to recharge your electric car every 50 km are a thing of the past. In certain respects electric cars outdo traditional fuel-powered vehicles, at least in the city, in that they don't consume fuel while you're stuck in a traffic jam. See what distance you can cover and learn more about charging electric car points.
In this article you will find out:
what average distance an electric car can cover and what it depends on,

which cars can run longest on a single charge,

what the differences are between public and private charging points.
What average distance can an EV cover?
The average distance a fully charged electric car can cover is one of the basic criteria considered when buying a vehicle like this. EV manufacturers realise this and they're doing their best do increase the average distance and the performance of these vehicles. New models of electric cars can cover 100 or 200 km without having to be recharged. A while ago you could not dream of such performance – it was absolutely beyond reach.
Top models of contemporary EVs have broken the 300 km barrier and some of them can go as far as 400 km on a single charge. Among the record holders we could mention the most expensive cars, such as TESLA and Volkswagen.
What affects the range of an electric car?
The range an electric vehicle can cover depends mainly on the battery capacity and weight of the car. A larger battery means you can cover a longer distance before you have to stop at the charging station. But remember that a larger battery often increases the weight of your car –  batteries with better parameters are heavier than their less powerful counterparts. 
Another thing that affects the range is the way you use your electric car. Apart from the electric engine itself, air-conditioning and heating consume the most energy. If you don't use these options, you increase your range by a dozen kilometres or more. 
One more important factor is your driving style. If you like to accelerate or brake rapidly, if you have a thing for speeding or revving the engine,  you will have to visit a charging point more frequently than those who prefer economical driving.
What models can cover the longest distance without having to stop by at the charging station?
The longer you can use your EV without having to use a charger, the better and more convenient it is for you. Here's a list of 10 great EVs in this respect:
Tesla Model S (Long Range Plus — 652 km),

Tesla Model 3 (Long Range — 580 km),

Tesla Model X (Long Range Plus — 561 km),

Volkswagen ID.3 (Pro S — 549 km),

Volkswagen ID.4 (500 km),

Hyundai KONA Electric (the 64 kWh version – 484 km),

Jaguar I-Pace (470 km),

BMW iX3 (460 km),

Kia e-Niro (the 64 kWh version – 455 km),

Kia e-Soul (the 64 kWh version – 452 km).
As you will see, the TESLA can boast the best performance, with two Korean brands, Kia and Honda, following close behind. There are also two models of Volkswagen ID, and one model by Jaguar and BMW, respectively.
Electric car charging points – public vs private
Even if the distance you can cover in your electric car is long, sooner or later you will have to replenish the battery. In order to recharge your car, you can either use a public charging point or replenish the battery in your own garage. Each of these methods has its pros and cons.
Public EV charging points
Public charging stations use DC. With the power ranging from 25 kW to 150 kW, this is often the fastest way to charge your EV. But remember that fast charging often means a higher price. Also, not all EVs are compatible with "fast chargers" The problem is, public charging points are often occupied (and you have to queue) or simply too far away.
Private charging stations
While you're at home, you can use either a regular socket or a private Wallbox. The former is a solution for those of you who are patient. A standard outlet offers AC with the voltage of 230 V and the intensity of 16A. This means that with charing form regular socket you will have to wait up to 24 hours before the car battery is fully charged (depending on the battery capacity). But you can also rely in this solution in a situation of emergency – after all, a mobile charger can be tucked away in the boot, which makes it perfect even for longer journeys.
The other method is much faster – the charging power of a Wallbox is up to 22kW. This means your car battery will recharge ten times faster. A drawback of this solution is a lack of mobility, because you can't take it with you. It's not a mobile charger. In this case, you will be able to recharge the battery only in one place, where the Wallbox isfixed.

Be ready for anything with a mobile charger by Green Cell
If you want to be sure you can recharge your car battery at any time and anywhere, go for  EV PowerCable – a mobile charger by Green Cell. The integrated cable is compatible with electric and Plug-In hybrid cars with Type 2 connector, such as e.g. Tesla Model 3 / Model S , BMW i3, VW ID.3, Audi E-Tron, Nissan Leaf, Peugeot e-208, Renault ZOE or Hyundai KONA. 
A mobile charger by GC is convenient and safe. Recharge your car battery on the road – all you need to do is find a regular power outlet!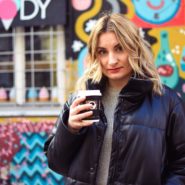 Veronica Jones
As an ardent enthusiast of written words she can handle even most complicated topics. In her everyday career she deals with content marketing, and more specifically she prepares and implements strategies. And when she doesn't work on another strategy, she writes blog articles for the Battery Empire.
Related posts