Electronic gadgets most useful on the road

Veronica Jones, 2 years ago
0
5 min

read
612
Going on holiday? Already started packing? It's a complicated, tedious and time-consuming process. You never know what might come in handy. Other than everyday essentials, such as clothes and cosmetics, you are well advised to take some useful electronic gadgets for vacation which will make your life easier. What best gadgets should you pack and why?
In this article you will find out:
what electronic gadgets you should take when going on vacation,

when electronic gadgets are useful,

what to look out for when choosing specific gadgets.
Powerbank — your best friend, especially on vacation
On the list of the most useful gadgets you would like to have with you on vacation, power bank is definitely number one. This portable device for storing energy will replenish your phone or tablet battery when you're on the beach, in the mountains or just sightseeing. It's useful… and many of you might even admit it's essential! Especially when you're on holiday and use your phone rather often – to take photos, check the route or find information about a place you're about to visit. We have grown to rely on our mobile phones – if we were to go without them for a while, it would probably be a stressful experience and a source of inconvenience, especially while you're away from home. A power bank is a good solution and a must have if you suspect you might be stranded in a place with no access to electricity.
When buying a power bank, remember to check out its capacity. This parameter determines the number of charging cycles your power bank can offer. In our online store you will find a number of models you might find interesting. When going on a longer or shorter journey, you may want to choose Green Cell PowerPlay10S with a capacity of 10000 mAh or GC PowerPlay20 20000 mAh – both come with the fast charging function. Either of these devices can offer multiple charging cycles, which is a major advantage when you're away from home. Appropriate safeguards mean you don't have to worry that the device might be damaged while you're on the road. You can use the power bank when driving a car, relaxing on the beach or sightseeing.

Wireless charger — always there for you!
A wireless charger is another gadget you may want to have when going on vacation. It will charge your phone or tablet and more! Its major advantage is that it may come with a few USB ports, which means it can recharge a few devices at a time. A wireless charger with a number of ports is extremely useful while you're away from home. Rather than a few separate chargers, you can only take one and use it for various mobile devices.
Explore the products available in our online store – you will find a range of wireless chargers. When you're planning a journey, we recommend that you pick Power Source 75W with four USB ports! Fast charging is possible thanks to the Ultra Charge technology. A robust case is yet another advantage of this model, which guarantees long life and resistance to scratches or falls.

Intuitive, lightweight tablet
If you have a tablet, why don't you take it with you when going on holiday? It's a lightweight mobile device, which will fit into your handbag, backpack or suitcase. A tablet has a series of functionalities you might find useful. You can use it to check your e-mail, read incoming messages, watch a video or contact your friends and family.
It's a good alternative to a laptop, especially when you're going on vacation. You may find it impossible to pack a portable computer, or maybe you just don't want to. It's understandable — a laptop is rather bulky, so it might not be the best gadget to include in your luggage. A tablet can do most things that a regular laptop does. When packing a tablet, don't forget about the charger — you may want to leave the default charger at home and choose a replacement to take with you on holiday. This is to make sure your tablet is always charged, so as to ensure positive, stress-free experience wherever you go!

A Bluetooth speaker — perfect for a party
The last gadget we would like to present to you before you go is a Bluetooth speaker. It might be useful during the journey and once you reach your holiday destination. With this device you can listen to your favourite pieces of music whenever you feel like it! The sound quality is much higher than if you were to play the music from your phone or another mobile device.
A speaker is compact-sized, so it won't take up much space in your luggage. And it only takes a while to connect it to your mobile phone. You can use the speaker to listen to music, podcasts or interviews. It comes with a range of extra functions, such as e.g. answering incoming calls. What is more, the latest models are water-resistant, windproof, sandproof and dustproof. You don't have to worry about taking your speaker to the beach – all you need is a proper battery . Alternatively, you have to remember to charge your battery before you use the speaker. A Bluetooth speaker is a perfect holiday companion especially for those of you who love music!
Summary
When going on vacation, you're well advised to take a few gadgets that will help you make the most of your time and ensure positive experience. In Battery Empire you will find a range of useful accessories. Pick a few electronic essentials and enjoy your vacation! 🙂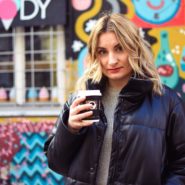 Veronica Jones
As an ardent enthusiast of written words she can handle even most complicated topics. In her everyday career she deals with content marketing, and more specifically she prepares and implements strategies. And when she doesn't work on another strategy, she writes blog articles for the Battery Empire.
Related posts